Dentures vs Implant which is better?
The implications of lost teeth are neglected by so many. Teeth knocked out, not replaced in due course, or an abscessed tooth pulled out, will not grow back.
Although some individuals can accept the embarrassing gap left with missing teeth that find it tougher to eat and speak, the majority of dental patients find it challenging. You probably juggled the idea of dentures and implants whether you lost your teeth from an accident, disease, or an exceeding use. The only problem is that you don't know which potential treatment will be the most effective for your smile. Only your dentist can recommend the best option for tooth replacement for your needs.
Below is some information on implants and dentures that can be used to talk to your dentist about your treatment options and help you get a better idea as to what option is best for you:
Dentures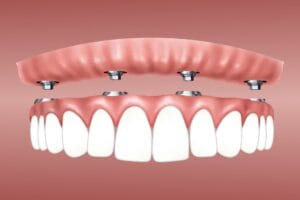 Dentures have been the oldest treatment for tooth replacement that is ideal for patients who most or all of their teeth are missing. Dentures have been long since your parent's time or even grandparent's time.
While dentures operate and collaborate with the same today, most of them are made from enhanced technology, such as 3D imagery and printing. This results in a denture that fits perfectly safe and more comfortably and looks like the natural teeth of the patient.
Most modern dentures still require adhesive glue or bond to secure the dentures and must be removed for food intake and cleaning during the night. Even partial dentures take time to get used to and initial discomfort may occur, even when the dentures are better suited.
Dentures are the best option if you have many missing teeth and don't bother to think if you take out while eating and get clean every night. 
Dental Implants
Dentures are ideal for the smile to be restored when you have many missing teeth, while implants are ideal for one or two missing teeth. A major gap in a smile is just as embarrassing as it doesn't have any teeth to show up.
Also, even if one tooth is missing, can cause additional dental problems such as crooked teeth which can occur in the future. Dental implants are metal screws usually made of titanium, inserted in the jaw of a patient with a crown cap or fake tooth. Dental implants close those awkward gaps in one's smile and fill the space to stop further dental problems.
Dental implants may also be a good choice for patients who have a few teeth in succession. Dental bridges are several dental implants that are mounted around each side of the jaw. Dental implants are affixed to the jaw in comparison to dentures. You can resist bite, eat and drink and you can talk clearly. The patient's mouth feels and tends to work with dental implants without little or no discomfort.
Dental implants are fast to recover so that they can be a good choice for those who want to look beautiful in a rush with their smile. The Only reason patients should avoid dental implants is if they are weakened and damaged jaw bone tissue which reduces jaw strength.
Implants would be best suited for patients whose teeth were missing and who did not want to deal with the inconvenience, discomfort, and potential discomfort of the dentures.
Conclusion
There is a different option for certain patients: All-on-Four Dentures. This teeth replacement process combines teeth and implants to produce permanent teeth that look and work like natural teeth.
This type of dentures is good for patients who have most or all their teeth prematurely lost but have sufficient jaw mass and strength to support implants. This is a relatively new option and is available in a few high-end dental offices.
If dentures and implants are great ways to fill your gaps in your smile due to lost teeth. They both have benefits and their purpose. Basic knowledge of the two can help you talk to your dentist.